Auto Loan FAQs
We're here to make the auto loan shopping process straightforward.
Finding and choosing an auto loan can be challenging. Many different factors go into getting the best loan for your circumstances. But doing a little research and asking the right questions will help you find the perfect loan that offers affordable payments and terms that fit your needs and budget.
We've compiled this list of the most frequently asked auto loan questions to help you as you shop around. When you get to the point of wanting to talk about rates or a vehicle you want to buy, let us know. At Atlantic Financial FCU, we aim to make it easy for you to get into your new car. 
With a quick application process and affordable loan options, our team will help you buy the car of your dreams or the one that's perfect for your family's lifestyle. No matter your interests or stage in life, we are always here to help!
General AFFCU Auto Loan Questions
Most auto loans are simple interest loans. That means the interest accrues daily, starting the day you sign the loan until the day you pay it off. The interest you pay is based on the loan balance you have, along with your interest rate and the number of days in the year. A portion of each payment applies to the principle, and another portion applies to the interest.
Yes. But becoming a credit union member is quick and easy. You can apply for membership in minutes. You don't even have to come into one of our branch locations to do it, and we'd love to have you join us.
Many factors play a role in this determination, including your credit score, income, expenses, and any down payment you plan to make. We recommend getting pre approved to learn how much you qualify for.
It's always our goal to process your loan application right away. Once we do a credit and income verification, we usually fund a loan within 48-hours. So often, the whole process can be completed quickly. 
Of course, we also recommend that you apply for your loan with us now and then start shopping with confidence. Pre-approval gives you negotiating power when you're car shopping and ensures an extremely smooth loan process.
Yes! We partner with TrueCar® to help you save time and money. On average, our members save about $3,572** off MSRP. They also say the car buying process is much more enjoyable.

To learn more, visit our car buying service page.
Our auto loan terms range from 36 to 84 months.
You can see them on our auto loan page. Just click here.
Our auto loan application is quick and easy. Simply go here to our application. You'll be asked to answer some questions about the type of loan you want, how much you want to borrow, and how long you want to borrow it for. 
Then you'll need to add your personal information like your social security number, date of birth, Drivers License, and employment information. From there, you're on your way to pre approval! Yes- applying online is that easy.
To apply for a loan, you'll need:
Income verification

Drivers License

Social Security Number

Bill of sale (once you have your vehicle picked out)

Auto insurance declaration with AFFCU listed as the loss payee
No. At Atlantic Financial Federal Credit Union, we never charge an application fee for auto loans.
No, we offer convenient loan closing options that do not require you to come to a branch. We can send you all the applicable loan documents for review and have you sign them electronically. This efficiency allows you to close your loan from anywhere.
The interest rate you can access is closely tied to your credit and loan payment history. So if your credit isn't where you want it to be, taking a little time to improve it can help tremendously. 
From there, shorter loan terms come with lower interest rates, so consider financing an auto for a shorter duration to access lower rates. Larger down payments can also help lower your interest rate. 
We also think you might like this helpful article about financing a car the smart way.
Loan approvals are good for 30-days.
Well, that's easy! Just call us at (410) 584-7474. You'll have immediate access to a loan team member.
Auto Loan Payment Questions
You can make your monthly loan payment in a number of ways. You may mail us a check, transfer funds from your AFFCU accounts to your loan as payment, use your financial institutions' online bill pay system, or pay by card (fees apply).
Yes, we encourage you to do so. When you set up auto payments, the funds are drafted on the day you select and for the amount you determine. This is a great way never to miss a payment.
Yes, you can. The extra amount you pay will be applied to your loan. You can make additional payments, too. Doing both or either will help you pay off your loan faster and save you money on interest.
Yes. All of our accounts allow you to manage them and make your monthly payments online or through our mobile banking app.
We know life happens- so all of our loans come with a 15-day grace period. If you need more time than that, we'll work with you. Just let us know as soon as possible. It's easier to help you when we know ahead of time that making a payment will be tough for you.
That's usually a request we can process. Just reach out to us as soon as you know that a date change would be helpful.
Auto Loan Refinance Questions
Depending on your current situation, refinancing your auto loan might save you money by giving you a lower interest rate, lower your monthly payment, or change your loan terms. If you think refinancing might benefit you, we welcome you to reach out and talk with one of our loan team members. 
You can also read more here, or here. You can also use our vehicle refinance calculator to calculate any possible savings.
Yes. We're always happy to help you save money or find loan terms to fit better your life or budget, no matter where you initially got the loans.
You'll apply to refinance an auto loan the same way you apply to finance a loan. 
Simply go here to our application. You'll be asked to answer some questions about the type of loan you want, how much you want to borrow, and how long you want to borrow it for. Then you'll need to add your personal information like your social security number, date of birth, Drivers License, and employment information.
We're Here for Your Auto Loan Questions and Needs
If you're considering an auto loan or want more information on our current rates, loan types, and terms, we invite you to learn more about our auto financing options. Let's answer those questions, provide you with insight, and get a loan offer in your hands in no time. Click the button below to learn more!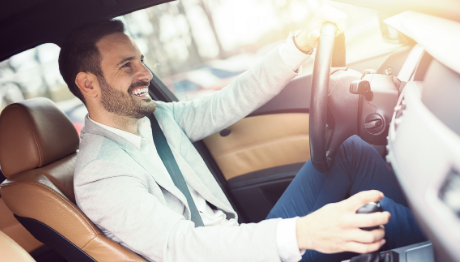 Contact us when you're ready to buy or if you have auto lending questions.
Disclosures
**Between 1/1/19 and 12/31/19, the average savings off MSRP experienced by consumers who connected with a TrueCar Certified Dealer through the Frost Financial, Inc. Auto Buying Program and who were identified as buying a new vehicle from that Certified Dealer was $3,572. Your actual savings may vary based on multiple factors, including the vehicle you select, region, dealer, and applicable vehicle-specific manufacturer incentives, which are subject to change. The MSRP is determined by the manufacturer and may not reflect the price at which vehicles are generally sold in the dealer's trade area, as many vehicles are sold below MSRP. Each dealer sets its own pricing.