Online & Mobile Banking
Secure, Easy Access - Anytime, Anywhere
Stay connected to your money - anytime, anywhere!
Your life is busy and managing your finances shouldn't be a challenge. AFFCU's Online and Mobile Banking tools simplify your everyday banking and money management. Our fast, free, secure online banking system is open 24/7/365. Manage your banking activities on-demand wherever and whenever it is convenient for you, right from your computer or mobile device.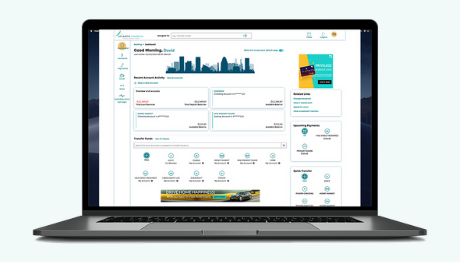 Online Banking
Access and manage your accounts securely online and on your schedule.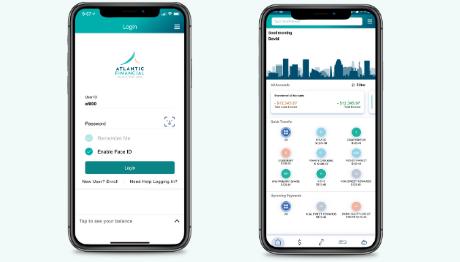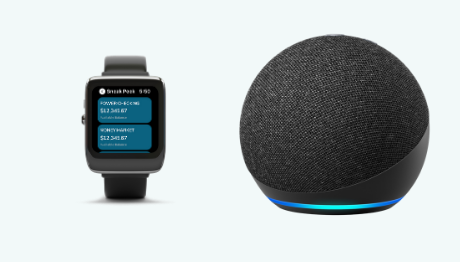 Voice & Watch Banking
Sometimes our hands are too full or dirty and an urgent banking need occurs. Just use your voice to complete some basic activities.
Digital Banking Gives You More Control & Convenience.
Account Management
View account balances, activity, and transaction details
Transfer funds
Easily transfer funds between your connected accounts
Bill Pay
Easily make payments, view payment history, and more 1
Deposit checks
Deposit checks with ease by snapping a picture with your phone2
Manage Finances
Use My Financial Insights to create a 360-degree profile of your finances and gain better control of your personal finances
E-Statements
Get faster access to your monthly statements 3
Banking Simplified. On Your Schedule. Wherever You Go.
Branch locations and hours don't matter. You can easily manage your account on your schedule from wherever life takes you. At home or on-the-go. You're always connected with the AFFCU Mobile Banking App.
High User Satisfaction Ratings
4.51 out of 5 Stars 
Rating based on member in-app performance rating and reviews on a five star scale.

Online Bill Pay
Eliminate writing and mailing checks to make your monthly bill payments. Pay them electronically in a few simple clicks. Online Bill Pay1 from AFFCU makes paying and managing your bill payments faster, easier, and more secure. Plus no more checks and postage will save you money. It's fast, simple, and FREE.
Set up and make one-time or recurring payments with ease
Schedule payments in advance
Have all payee information saved in one convenient place
Ensure payments are received on time and reduce potential for late fees (if payments set up and scheduled on-time)
View payment history
Gain more control and organization with better oversight of budget, payments, and cash flow.

Mobile e-Deposit
Deposit checks the easy way – anytime, anywhere. No need to visit a branch or ATM. It couldn't be any easier. Simply snap a photo of your check using our Deposit feature in the AFFCU Mobile Banking App and you can conveniently and easily deposit a check into your account from anywhere.
Convenience: Deposit up to $5,000 in checks per business day from anywhere, anytime
Easy Access: View your mobile deposit check images
Save Time: Skip traveling to a branch or ATM
Real-Time Confirmation: Get email confirmations for every deposit
To enroll in E-Deposit, simply request access from within the AFFCU Mobile Banking App by clicking the "Deposit" option in the navigation menu.2

Manage Personal Finances
AFFCU's My Financial Insights is a free personal financial management tool that allows you to monitor your spending habits, establish budget goals, and see where your money is going.
Link your AFFCU accounts and outside 3rd party financial institution accounts to build a complete picture of your finances. Gain a better understanding of cash flow and budget and know where your hard earned money is going.
Learn more about My Financial Insights and how it can simplify managing your personal finances.

eStatements
Enjoy the security and convenience of accessing your statements online. Not only will you get faster, more secure delivery of your monthly statements, but you can view, download, and print your statements on-demand. You'll receive an email at the beginning of every month when your statement is available online.
Enroll in AFFCU's eStatements from your Online Banking account. A valid email address is required for setup.

Voice Banking
Add some more convenience and simplicity to your AFFCU banking access with voice banking. Your Atlantic Financial FCU accounts can be accessed by your voice using your Amazon voice assistant devices. Download the Atlantic Financial Amazon Skill to your device and enjoy the added convenience.
"Alexa, what's my checking account balance"
"Alexa, pay my monthly auto loan payment."
Learn more about AFFCU's Voice Banking.

Smartwatch Banking
Not sure about your account balance while in the checkout line about to make a purchase? No worries. Just tap your smartwatch for quick access to your account details.
AFFCU's digital banking system includes a smartwatch app integration for added digital banking convenience.

Need Help WIth Your Digital Account Access?
Check out our member support resources.
Online Banking FAQ's
When depositing a check remotely, please be sure include the following Required Mobile E-Deposit Check Endorsement Features:
Signature of individual(s) addressed as Payee(s).
Written statement " For Mobile Deposit At AFFCU "
Checks deposited via the mobile E-Deposit feature that do not have BOTH endorsement features WILL NOT be accepted.
Disclosures
1 You must have an AFFCU checking account to use Online E-Bill Pay.
2 AFFCU's Remote E-Deposit service is only available through the mobile banking app. You must be a member in good standing for at least 30-days before you are eligible to use AFFCU's Mobile E-Deposit.