Boating in Baltimore — New Boater's Guide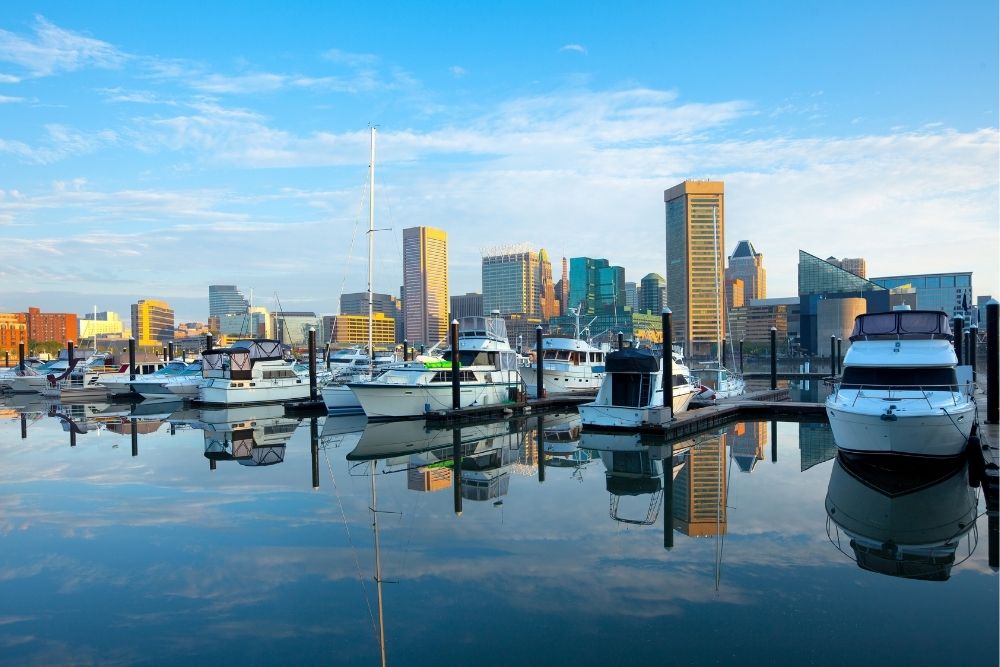 There's nothing like the feel of getting out on the water on a bright sunny day. It can be a wholesome family experience or a great opportunity to get some friends together to let off some steam and relieve stress from the workweek.
If you are a new boat owner or you are thinking about getting into boating, the Baltimore area is an amazing place to enjoy the water. Baltimore's Inner Harbor is situated in a sheltered harbor on the Patapsco River off the Northwestern Chesapeake Bay. This provides access to the Bay for some deep water fun as well as several of the area's freshwater lakes. 
Before you can explore the Baltimore waterways and shorelines, there are some things you should know about titling a boat, boating safety, water access, and the local marinas. The regulations aren't complicated, and in very little time you could be taking advantage of Baltimore's boating scene. 
Watercraft Registration, Titling, and Sales Tax Requirements
Before you can start your boating adventures on either the freshwater or saltwater, you need to first make sure your boat is registered and titled and that all required sales tax is paid.
Registration and Titling
Knowing whether your boat needs to be registered in Maryland is easy to determine. If your boat meets the following two requirements, it must be registered:
It is powered by an engine.

It is primarily used in Maryland. 
If your boat is non-motorized, it is exempt from registration. 
Regardless of whether your boat was purchased in Maryland or another state, if it will be used in Maryland the majority of the year, you will have to pay the vessel excise tax. You must also register your boat within 30 days of the purchase if you bought it in Maryland or 30 days before you enter Maryland waters to avoid the assessment of a penalty and interest. 
Titling and registration can be done in person at a Department of Natural Resources (DNR) Service Center. The documentation can also be mailed to a DNR. After the initial registration, renewals can be completed online. To complete both the registration and titling, you will need:
DNR Form B-240

Manufacturer's certificate of origin

Original certified bill of sale 
Boating Safety in Maryland
Boating safety isn't something you want to take for granted. Anyone who operates a boat in a coastal region, for example, should have a strong understanding of tidal changes and how they can affect where you can safely go. With the right training and vigilance, however, potential accidents can be avoided.
The best way to learn about boating safety in Maryland is to take a course on the subject that is offered by the Maryland DNR. Courses are offered online for your convenience. This lets you avoid the travel expenses associated with in-person training. The online course content and instruction are held to the same high standard as the classroom course.
The boating safety course follows the guidelines of the National Association of State Boating Law Administrators (NASBLA). After you pass the final exam, you will be awarded a certificate of boating safety. This certificate is required by Maryland law before you can operate a boat on Maryland waters. 
Boating in Baltimore: Water Access
If you have a towable boat, you will need a place to launch it. Thankfully, there are many boat ramps in the area that give you access to both the Chesapeake Bay and the freshwater lakes.
Baltimore County Boat Ramps for Chesapeake Bay Access
All of the following boat ramps are located within county parks. Although no fees or permits are required by Baltimore County to use any of the Chesapeake Bay access ramps, a trailer parking fee is charged at Rocky Point Park from Memorial Day weekend through Labor Day.
Cox's Point Park
820 Riverside Dr. Essex, MD 21221
Inverness Park
2025 Inverton Road Dundalk, MD 21222 
Merritt Point Park
7800 Dunmanway Extended Dundalk, MD 21222
Rocky Point Park
2200 Rocky Point Road Essex, MD 21221 
Southwest Area Park
3939 Klunk Dr. Brooklyn, MD 21225 
Turner Station Park
23 Rayme Road Dundalk, MD 21222 
Wilson Point Park
950 Beech Dr. Middle River, MD 21220
With the exception of Inverness Park and Turner Station Park, ramp hours are from sunrise to sunset all year long. The following are the ramp hours for Inverness Park and Turner Station Park: 
January – March and November – December
6 AM to 5:30 PM
April – May and September – October
6 AM to 8 PM
June – August
6 AM to 8:30 PM
Freshwater Lakes
Freshwater fishing is a wonderful way to spend a day. It's both relaxing and challenging at the same time. Once your boat is in the water, you can enjoy a relaxing boat ride to find a great spot. You can then cast your line to see if the fish are biting.
Comprising an area of nearly 2,400 acres, Loch Raven Reservoir is managed by the Loch Raven Fishing Center. It is stocked with bass, northern pike, chain pickerel, and other warm-water species. All boats operating on the lake must have a permit from the Fishing Center, and any live bait used must be purchased from a Maryland-certified zebra mussel-free bait store.
Only boats that can be rowed or paddled or have a battery-powered motor are permitted on the lake. No gasoline-powered engines are allowed. Battery-powered boats can be rented if you don't own one. 
Baltimore Marinas
If you own a boat that is too large to be towed, you will need to keep it at a marina. The following are four highly-rated marinas to consider in the Baltimore area.
Inner Harbor Marina is the place to be if you want to be close to entertainment and activities. Located in downtown Baltimore, it's within walking distance of some great restaurants, shops, museums, and other fun things. You could check out the National Aquarium, for example, which is right across from the marina. You're also very close to Camden Yards. 
When you're ready to dock your boat, you can easily set out for a wonderful experience in the downtown area without having to travel.
Harbor East is Baltimore's most prestigious neighborhood. After spending a day on the water, you could walk to some of the best restaurants, luxury hotels, shops, bars, and lounges that the city has to offer. Harbor East Marina's newly renovated facility has 154 boat slips, new floating docks, and other amenities for an amazing experience boating in Baltimore. 
Anchorage Marina is located right along Baltimore's Harbor and the Patapsco River. As a large community of boat owners, it's great for getting to know other boaters and for socializing off the water. The marina is also close to historic Canton, and there are many local restaurants and shops to explore. 
Located in Fells Point, Baltimore, Henderson's Wharf Marina is a 256 slip port that is known for its excellent customer service. There is an on-site hotel, and you can also enjoy many restaurants, shops, and bars after enjoying a day of boating fun in the Chesapeake Bay. 
Read More: Best Day Hikes Around Baltimore, MD
Now Is a Great Time to Take Up Boating in Baltimore
If you've been thinking about buying a boat to explore the Baltimore waters, becoming a boat owner may be a lot easier than you think. 
With a boat or watercraft loan from Atlantic Financial Federal Credit Union, you can finance a boat with a loan that has competitive rates and flexible terms of up to 72 months. Applying is quick and easy, and you can do it either in person or online.
Click below to learn more about our boat and watercraft loans!