Best Day Hikes Around Baltimore, MD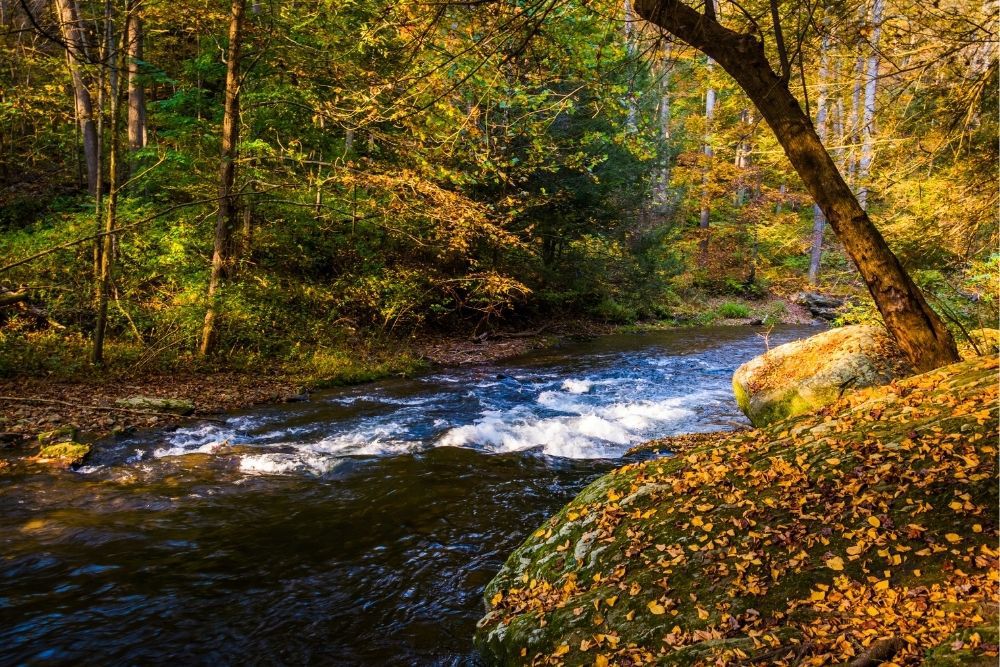 There's nothing like spending a day surrounded by nature. Whether you enjoy going for a hike, a bike ride, a nature trip, fishing, or for a picnic on a warm, sunny day, the time you spend outdoors can help you relax and lift your mood.
Spending time outdoors is also a great way to be with your family. Thankfully, Baltimore and the surrounding area are filled with incredible natural beauty and interesting destinations that you can explore. The following are some of the best day hikes to check out. 
With its 18,000 acres of nature to explore, Gunpowder Falls State Park is one of the largest parks in Maryland. It's so large that you can have an entirely different experience each time you visit.
Located just along the border of Baltimore and Harford Counties, the park has over 120 miles of multi-use trails with historic sites to visit. Visitors can also go hiking, fishing, kayaking, canoeing, and take in other activities.
The park is divided into six areas:
If you are new to the park, a good starting point is the Sweet Air area. Although it's a just section of the much larger park, it's still an impressive 1,250 acres with plenty of nature to explore.
The Sweet Air area is a great place to hike for several reasons. It has 18 miles of trails with a 6.2-mile circuit that makes for a relatively easy hike. You also don't have to leave your furry friends at home. As long as pets are on leashes, they're welcome in the park.
The trails in the Sweet Air area are also excellent for biking and horse riding, although these activities aren't permitted on either the Cody Jean or Red Dot trails. Regardless of whether you are riding or you are on foot, the Sweet Air Loop is a recommended trail to start with. At just 3.1 miles, it's a very easy route. The trail is open year-round.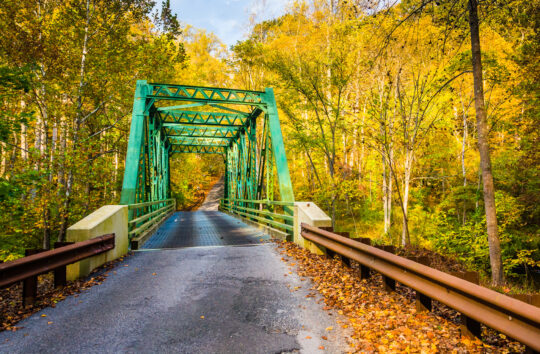 Another beautiful park to explore in the Baltimore area is Rocks State Park. Located in the northern part of Harford County, it consists of 855 acres of rocky forest land. If you're seeking adventure in and around the water, the park also has access to Deer Creek, a great fishing spot. It's also a prime place to cool off on a hot day by wading or tubing in the water!
Rocks State Park is also a nice spot to bring a meal and picnic with family and friends. With three picnic areas in the main section, you shouldn't have any trouble finding a spot. Picnic area hours vary depending on the time of the year. From April to October, hours are 9 AM to sunset. From November to March, hours are 10 AM to sunset.
There are two great trails in Rocks State Park. At 3.2 miles, King and Queens Chair Loop is a moderate-difficulty trail that many enjoy. Your dog can travel with you as long as it's kept on a leash.
White Trail Loop is the second trail. At a mere 2.5 miles, it's ideal for a leisurely stroll and for enjoying the beautiful wildflowers in the area.
Rocks State Park is open from sunrise to sunset. If you want to check out Kilgore Falls, the area is open from 9 AM to sunset from April to October, and from 10 AM to sunset from November to March. 
Mountain bikers and fishermen rejoice in the outdoor playground that is Susquehanna State Park, located on the banks of the lower Susquehanna River, north of the city of Havre de Grace. The area is made up of heavy forest cover, rocky terrain, and the river that leads out to the Chesapeake Bay. 
The park also has a family-friendly campground with traditional campsites and cabins and Lapidum Boat Ramp. Whether you're fishing from the shoreline of a boat, you'll have access to plenty of fish including bass, pike, and perch. But you'll need a non-tidal fishing license to fish in this park.
History buffs always appreciate the restored Rock Run Historic Area that boasts a working gristmill, Steppingstone Museum, settlement of Lapidum, Jersey Toll House, Carter-Archer House, Stafford Flint Furnace, and the remaining portions of the Susquehanna & Tidewater Canal.
If you're a hiker, you can find a list of trails here. Park hours are sunrise to sunset. The Deer Creek Picnic Area is open from 9 a.m. to Sunset (April – October) and 10 am to Sunset (November – March). But certain activities like fishing, hunting, and using the boat launch are permitted outside of the regular park hours. 
If you are someone who loves spending time on the water, you should definitely check out the Loch Raven Reservoir Park. Conveniently located near the Baltimore Beltway, it's a premier destination for bass fishing and other outdoor activities. You can bring your own boat, or rent a boat from the Loch Raven Fishing Center.
There's so much more to enjoy in this area than fishing. Since it's located near Towson, MD, many people visit for a relaxing picnic. Bird watching is another popular activity.
There are four great trails at Loch Raven Reservoir to check out. Morgan Mill Trail is a short 2.6-mile loop that's ideal for a short stroll or bird watching. The trail is open year-round and dogs are welcome as long as they are on leashes.
At 3.8 miles, Merryman's Mill Trail is a loop trail that is popular with hikers and mountain bikers alike. Dogs on leashes are permitted, and it is best enjoyed from April to September.
Merryman's Mill Upper Trail Blue Loop is the shortest trail at the reservoir. At a mere 1.8 miles, it is good for all hiking levels and is ideal for a short nature trip or bird watching. Dogs on leashes are permitted, and it is best enjoyed from April to September.
Finally, at 3.4 miles out and back, Loch Raven Pink Trail is great for all hiking levels and is also popular with mountain bikers. The trail is best enjoyed from April to September.
If you plan on picnicking at the reservoir, but don't have time to pack a basket, there are several great restaurants near the park to choose from. You could order ahead from Panera Bread, for example, or from another restaurant in the Cockeysville, MD, area. 
The Morgan Run Natural Environment Area is a popular destination for both hikers and horse riders. The nearly 2,000-acre park is located in Carroll County.
Thanks to a wheelchair-accessible platform, fly fishing in the trout stream can be enjoyed by everyone. Only catch-and-release is permitted, however.
Two popular trails await those seeking hiking or mountain biking adventures. For those who desire a long hike, Klee Mill Path is a three-mile out and back trail that also allows dogs on leashes.
The Morgan Run Natural Environment Area Trails is a 3.4-mile loop with a river that's ideal for hiking, taking in nature, and bird watching. The trail is open year-round, and dogs on leashes are welcome.
If you are planning on having a picnic at the Morgan Run Natural Environment Area, there are several delis located nearby in Sykesville, Maryland. Be sure to order ahead for a take-out meal. These are also great places to sit and relax for a meal after a day at the park.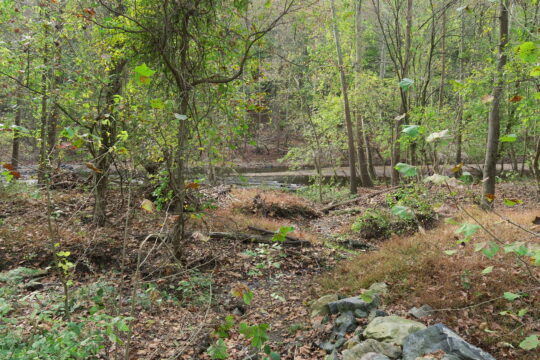 The best known park on our list has to be Patapsco Valley State Park, a recreation area extending along 32 miles of the Patapsco River south and west of the city of Baltimore. Made up of over 16,000 acres, with 200 miles of trails, Patapsco Valley State Park is a true outdoor paradise. With opportunities for hiking, fishing, hunting, camping, pickning, kayaking, mountain biking, and horseback riding, there's something for everyone here. 
Of the 200 miles of trails, 70 are well maintained trails ideal for family hikes. You can check the park's webpage for fun self-guided hikes and other activities Patapsco Valley State Park Bingo. You can also access detailed trail maps on the website. If you plan to bring a pet with you when you visit the park, you should check ahead since they're permitted only in specific areas. 
The park gets crowded on weekends and holidays, so try to visit on a weekday, off season, or arrive early. If you do come later in the day or on holiday weekends, look out for any "Filled to Capacity" signs. If you see them, you'll need to come back at another, less busy time.
There are six areas to park and picnic, with the newest areas accessable off of Hilltop Road. The park is open from 9 a.m. to sunset daily. 
Read More: Boating in Baltimore
Affordable Family Fun
Outdoor recreation is a wonderful use of a free day. Whether you decide to go fishing, boating, hiking, bike riding, or you just want to have a simple picnic by a lake or river, it's a great way to enjoy some downtime.
Perhaps one of the best things about spending time outdoors is that it's very affordable. It doesn't cost anything to go for a short hike or to bird-watch. In a world of expensive entertainment, it's refreshing to know that one of the simplest things you can do with your family is also one of the most affordable.
If you are looking for more ways to stretch a dollar, check out the following article. With a little creativity, you can trim your budget without having to cut back on the things in life that you enjoy.