MY AFFCU REWARDS Pays Out Nearly $70,000 In Its Inaugural Year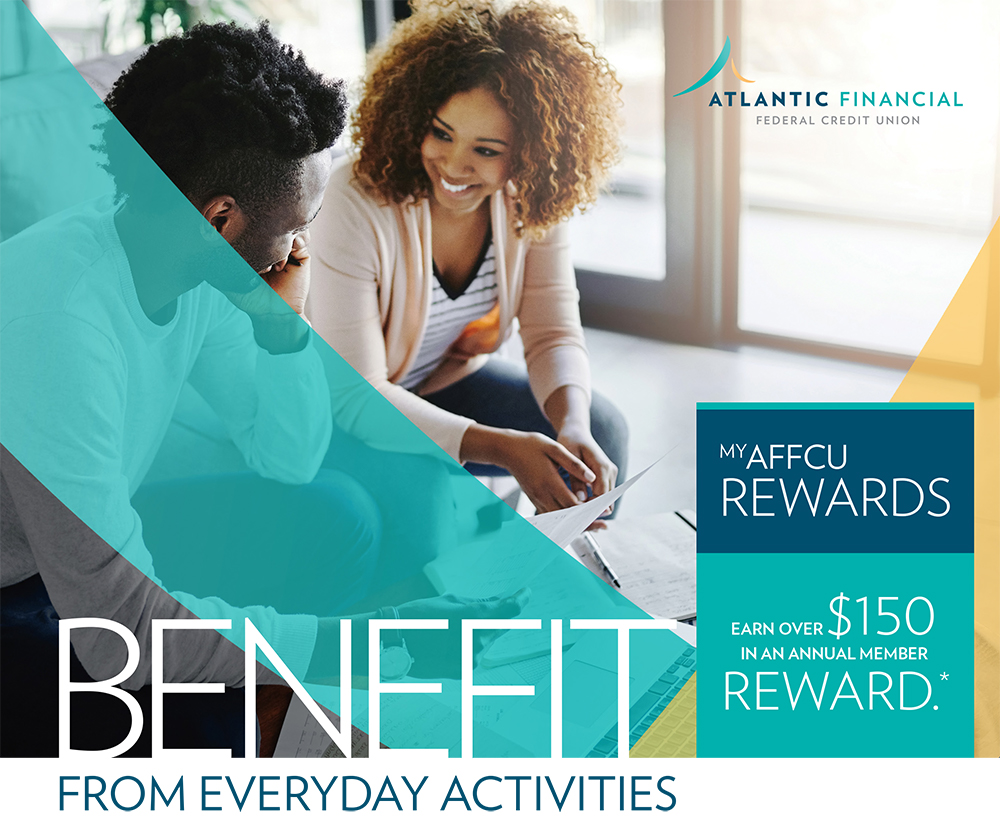 Atlantic Financial Federal Credit Union issued the first payout of its MY AFFCU REWARDS program, which was introduced in 2018. The rewards program returned nearly $70,000 to qualifying members as a cash back bonus.
MY AFFCU REWARDS is the Credit Union's way of rewarding members for their active and engaged relationship with the Credit Union. Members regular use of AFFCU services is what makes the Credit Union successful. This is our way of saying thank you and returning the results of our success to our active member-owners.
Matthew Piazza, AFFCU President & CEO, stated "MY AFFCU REWARDS was designed to put members in the driver's seat. Each member controls their earning potential based on the level of activity they have with AFFCU throughout the year. As members begin to see what others earned we are optimistic that this program will continue to build and encourage deeper member relationships. Ultimately growing our annual cash back payouts, continuing to put money back in our members' pockets."
Check your account statements to see if you earned a MY AFFCU REWARDS bonus. The member bonus was distributed to qualifying members on January 2, 2019. Funds were deposited into your primary share savings account with the transaction title MY AFFCU REWARDS.
Thank you to all members for helping make 2018 another successful year for the Credit Union!
How MY AFFCU REWARDS works:
Earning your My AFFCU Rewards is easy. Get rewarded with Cash Back just by completing your normal everyday banking activities with us.
Every AFFCU member is automatically enrolled and eligible to participate. To qualify, you must be a member in good standing with an AFFCU checking account, be enrolled in e-statements, and make 12 checking account transactions (withdraws) per month. Those who meet these monthly qualifications at least 50% of the time during their membership throughout the year can earn over $150 Cash Back based on the following:
1. Total combined AFFCU loan(s) balance:
Earn $20: loan balance between $500 – $4,499.99
Earn $30: loan balance between $5,000 – $19,999.99
Earn $50: loan balance between $20,000 – $59,999.99
Earn $75: loan balance between $60,000 +
2. Total combined AFFCU savings deposit(s) balance:
Earn $20: savings balance between $500 – $2,499.99
Earn $30: savings balance between $2,500 – $9,999.99
Earn $50: savings balance between $10,000 – $29,999.99
Earn $75: savings balance between $30,000 +
3. AFFCU Debit Card usage: $0.04 earned per purchase transaction
4. AFFCU Credit Card usage: $0.04 earned per purchase transaction
To learn more and calculate your potential earnings visit https://get.affcu.org/my-affcu-rewards/