Why Use Personal Loans for Vacation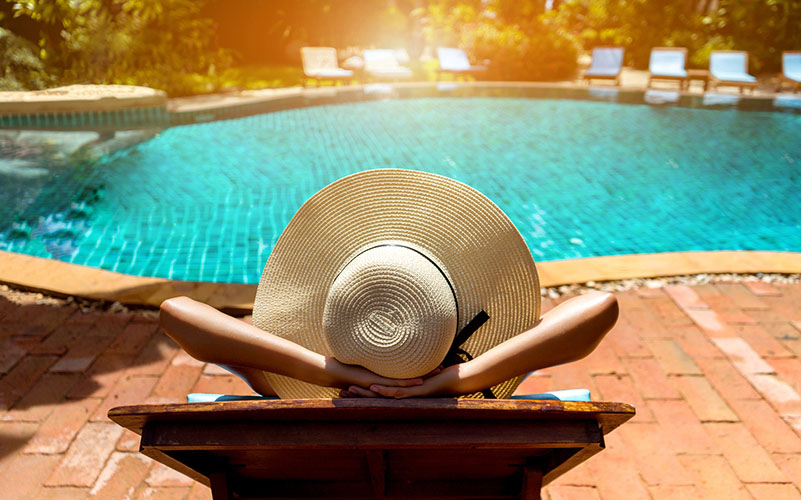 Making good financial decisions is important but your budget should also include vacations or at least the occasional weekend getaway. You might feel stressed about work or concerned about the future. Whatever your situation, you deserve to indulge in different experiences and escape your routine from time to time.
But how are you going to fund your beach vacay, mountain retreat, or family trip to Disneyland? If you don't have enough savings – or want to leave your Savings Account intact – a personal loan is a great solution. The small amount of interest you pay is worth it for your mental health.
Whether or not a personal loan is an ideal option depends on your goals and your current financial health. Read on to find out everything you need to know about personal loans available for people throughout the greater Baltimore communities in Maryland.
Personal Loans for Vacation Cost Less Than Credit Cards
No matter if you're traveling near or far, a personal loan for vacation can open many doors so you and your family can experience the nicer things in life. Meanwhile, reaching for a credit card can be an expensive option. Here are a few ways personal loans can save you money:
You Could Pay Less Interest 
If the interest rate you obtain on a personal loan is lower, chances are you can save money by paying significantly less interest than you would on a credit card.
Interest rates on most credit cards range from 10 percent up to 25 percent or more. 

Interest rates on personal loans may start as low as 7.24 percent based on your credit score.
You'll Be More Likely to Pay on Time 
It's also wise to remember that credit cards can take a long time to repay once you rack up a high balance. 
You may have good intentions of paying your credit cards off each month, but many people fail to do so and interest quickly adds up.

If you're juggling multiple credit cards, it can be easy to forget a payment and then you pay more interest – along with late payment fees.

You can repay a personal loan with equal monthly payments over a term that suits your budget. Set a reminder or set up auto-pay, and you'll never miss a payment.

Most personal loans have no prepayment penalty if you want to pay off your loan sooner – and no origination fees.
When looking into using a personal loan for your vacation, be sure to carefully compare credit card and loan offers in the Baltimore, Maryland area. You'll likely find AFFCU low-interest personal loans are more affordable than other loans or your credit cards.
Using a Personal Loan for Vacations Can Help You Budget
Another nice advantage of getting a vacation loan is that you can create your budget within the personal loan. Here's an example of how it could work:
Let's say you're planning a week at the beach. 

You plan a budget and crunch all the numbers to help you decide if it's a good idea to fund your summer vacation with a personal loan.

You choose to borrow $2,500 for the trip and leave your credit cards at home. 

There's no temptation to overspend as you already figured out how much the trip will cost and you know your limit.

You can enjoy your vacation because you know you can afford your fixed monthly payment, and you know how much you'll pay in interest. 
This scenario is much less stressful than worrying about what all your different credit card charges will add up to while you're in the middle of your vacation. 
What to Know Before Getting a Personal Loan for Vacation
Borrowing for a summer vacation can make sense for many people. But it's important to make the right choice for your particular financial needs and situation. Here are a few things to keep in mind before you apply for a personal loan:
How much money do you need?
The best way to have a successful personal loan experience is to keep your borrowing to a minimum so you can easily afford your payments. 
Calculate all the likely costs for your vacation, like travel expenses, accommodation, food, and activities.

Choose a loan amount that covers the total. 

Avoid adding on extra funds to pay for other needs or luxuries. 
What monthly payment can you afford?
It may be a once-in-a-lifetime trip or a much-needed visit to see family members who live far away. No matter how important or incredible the trip is, you still need to be able to afford the monthly payment on the loan. 
Once you've worked out your likely vacation expenses, get a quote for your personal loan and use a

loan payment calculator

to see different monthly payments.

See how different repayment terms can affect your monthly payments – choose a longer loan term for lower payments or a shorter term to save on interest with the lowest rates.

When you get pre-approved for your personal loan, you can find out what interest rate you'll likely get for your credit score.
Does a personal loan impact your credit score?
When you apply for a personal loan, your lender will run a credit check to make sure you can qualify for the loan. Your credit history also impacts what annual percentage rate (APR) you get. 
Here are a few more ways a personal loan can impact your credit: 
During the application process, your score will drop a few points temporarily – then bounce back once you start making regular payments.

Making timely regular payments on your personal loan will improve your credit score overall. 

Missed payments can negatively impact your credit score.
Taking out a personal travel loan is often a better choice than using your credit card because then you can keep your credit card balances lower, and your amount of available credit will be higher.
To maintain a great credit score, you want to use less than 30 percent of your total available credit so you have a good debt-to-credit ratio. When you use your credit cards to pay for your vacation, you may quickly use a lot of your available credit or even max out your cards.
Next Steps: See the Benefits of Personal Loans for Vacation
Personal loans are flexible and you can use them for many expenses, including your dream vacation or a quick self-care trip. Just be sure to review all the numbers before you make a decision. If possible, try to save up money to cover some of your expenses and get a loan for the rest.
When you've worked out a budget for your vacation, Atlantic Financial Federal Credit Union is here to offer people in our greater Baltimore communities a low-cost personal loan. Click below to see how you could benefit from a low-interest personal loan!